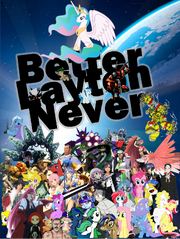 Welcome to the Better Layton Never's Wiki
Edit
In this Wiki page, you will find all the information you want on the roleplaying canon of Better Layton Never and more.
Before editting, please read the rules of this wiki. Thank you.
Not sure where to start? Try browsing the List of Lists.
Help Wanted!
Edit
As you know, information is always needed to be updated as time progresses.
Please check on the List of Mutable Pages for a list of pages that is needed to be updated the most frequently.
Steam Page: http://steamcommunity.com/groups/BetterLaytonNeverRP
Note: The main Steam page holds all current links to the IC, OOC, Arc Schedule, and Art Tumblr.